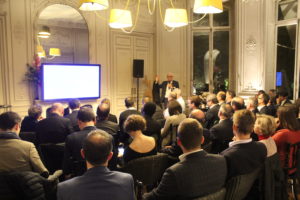 Last Thursday, November 7th 2019, TOLSON had the pleasure of hosting VDA Night at Châteauform'. It was a full house with over 40 VDA members including around 15 CPOs as well as partners. We are grateful to see our community growing and developing every year. We would like to extend a special thank you to those who travelled a few extra miles in order to be with us !

For those who don't know VDA, this initiative brings together 25 multinational companies that are committed to sharing experiences and best practices in Procurement, all with the aim of optimizing their performance and progressing together. At TOLSON, we are more than ever convinced that progress is made by leveraging collective intelligence.

What tools and processes to optimize buyers' performance? How to delegate non-strategic purchases to users? How to leverage CSR to create value? How to work better with established suppliers and start-ups? These are only some of the questions that we have identified and have been working on together since May.

All in all, VDA Night was a great success. We would like to thank all those who contributed to the different workstreams throughout the year and we are looking forward to collaborating further on VDA topics in the sessions to come.