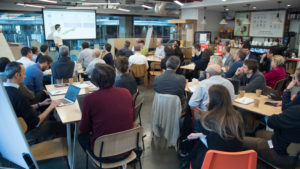 At TOLSON, we are ending the year with an event to remember : VI4.0 Day.

The first Vision Industry 4.0 cycle has been achieved. This unique initiative relies on collective intelligence of more than 12 manufacturing companies. The mission they have in common is boosting their Operations transformation thanks to innovative digital solutions.

This year we worked on topics regarding Supply Chain, Engineering, Data architecture and governance, Data use, Smart automation, Operators experience and Operations transformation. VI4.0 Day was the occasion to review all stream findings and define our next steps together.

We would like to thank all the participants for their contribution to this special event. We are looking forward to our next VI4.0 cycle !