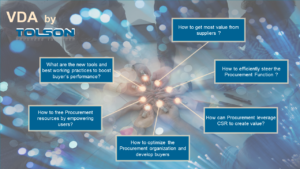 Despite these challenging times, we were over 80 to gather virtually for our first Virtual VDA Day which was a great success.
Once again, we thank all the participants for making this possible !
What is the VDA initiative ?
25 multinational companies united to share their experiences and identify best practices in Procurement in a very structured way
What are the objectives ?
Progress together. This means boosting the Procurement Function performance by leveraging collective intelligence
What is VDA Day ?
An event that takes place at the end of each VDA cycle to share the main findings and workstream deliverables, define the future topics to work on and share our outstanding projects
How to join VDA ?
Contact us for more info or explore our website !